04. 02. 2015
Ahhhh, abstract art... I can't get enough!  I'm especially in love with abstract art in nurseries and children's room.  Don't have any pieces of abstract art lying around? DIY you some! But not right now. Because I still have to make a post with my favorite DIY tutorials for abstract art.  So hold tight on that and check out these beautifully arranged nurseries in the meantime that NAILED IT when it comes to abstract art...
source: apartment therapy
source: babble
source: martin design agency
source: shoes off please
source: shoes off please
source: decor pad
source: project nursery
03. 02. 2015
The other day I stumbled up a lovely embroidery tutorial that made me stop mid-scroll. It was an image of a beautiful piece of embroidery using the feathered chain stitch from
Sarah Whittle's website.
"Wow, if only I had the attention span to try to learn how to do something like that," I thought to myself.  Just for fun and to confirm that this type of thing was way out of my league, I decided to click on the link. However, I started looking through her clear and well-explained pictures and they seemed to say, "You can totally DO this, just give us a try!" I started thinking hmmm maybe just maybe this is possible?  Jump over to
Sarah Whittle's page
and check out the tutorial for yourself. Are you thinking what I was thinking? Not too complicated, right? Just for extra support, and because I have no idea about anything when it comes to embroidery, I decided to back it up just a bit and try to learn what a BASIC chain stitch looks like before it gets all blinged out and feathery.  I found this tutorial from a different website called
Sarah's Hand Embroidery Tutorials
(apparently Sarah's really like to embroider). Here is what a basic chain stitch looks like: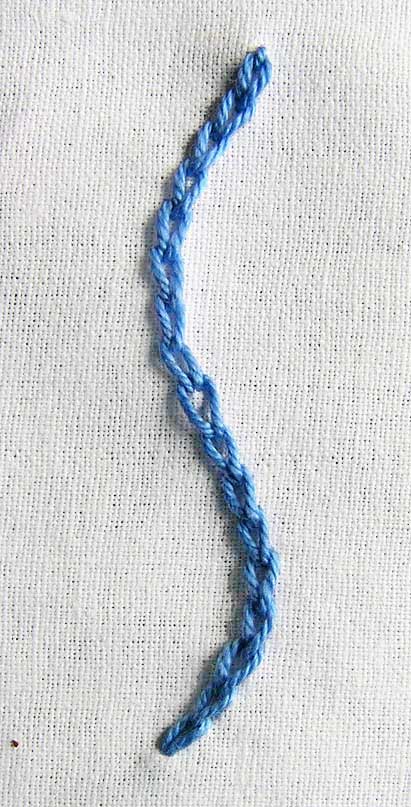 She explains it pretty clearly on her site.  The only part that was tricky for me was realizing you have to come up and then back down in the same spot when starting the stitch.  There are lots of possibilities with just the chain stitch.  I practiced her tutorial several times and once I felt comfortable with the basic chain stitch, I upped my game and went for the feathered chain stitch.  I practiced for awhile on scrap fabric before I started to get the hang of it, but it honestly didn't take too long! Once I felt confident with the feathered chain stitch, I started thinking about all the fun ways I could use it.  I had a left over plain white bib that I got from Hobby Lobby for $2.29 that I was going to use for another project but decided it would be great to use for a beginning project with my new found skill.  I decided I wanted to create an easy embroidered baby bib combining the feathered chain stitch, some simple stitching for my son's initial and basic edging stitches around the sides. I looked up a super basic stitch for the initial - the back stitch - and found this easy peasy tutorial from
Little Lovelies By Allison
.  You come up through a, then down through b and then back up through c to start a new stitch.
The last stitch I looked up was the blanket stitch that I used around the edge of the bib. 
Holiday Crafts and Creations
has a great easy to follow tutorial on the blanket stitch - Check them out. Once I figured out all the stitches, I printed out an initial in the font that I wanted to use and traced it lightly onto the bib with a pencil.  Once that was on, I set to work thinking about what stitches to use where. I really just eyeballed everything in terms of placement because that's just how I roll, but I think it came out pretty well. And it probably took me an hour to complete and only around 5 dollars to make! Hello inexpensive but fancy baby shower gift!!!
The one warning I will give you - it's kinda hard to actually let your child wear these bibs for their intended purpose and watch them smear food all over these beauties haha. Anyway, there are so many possibilities for how to use these stitches on bibs (or anything) so get creative! I know you have to do a little bit of "homework" for this project interms of learning the stitches, but they really are not that complicated and it will be great have these skills for future projects!